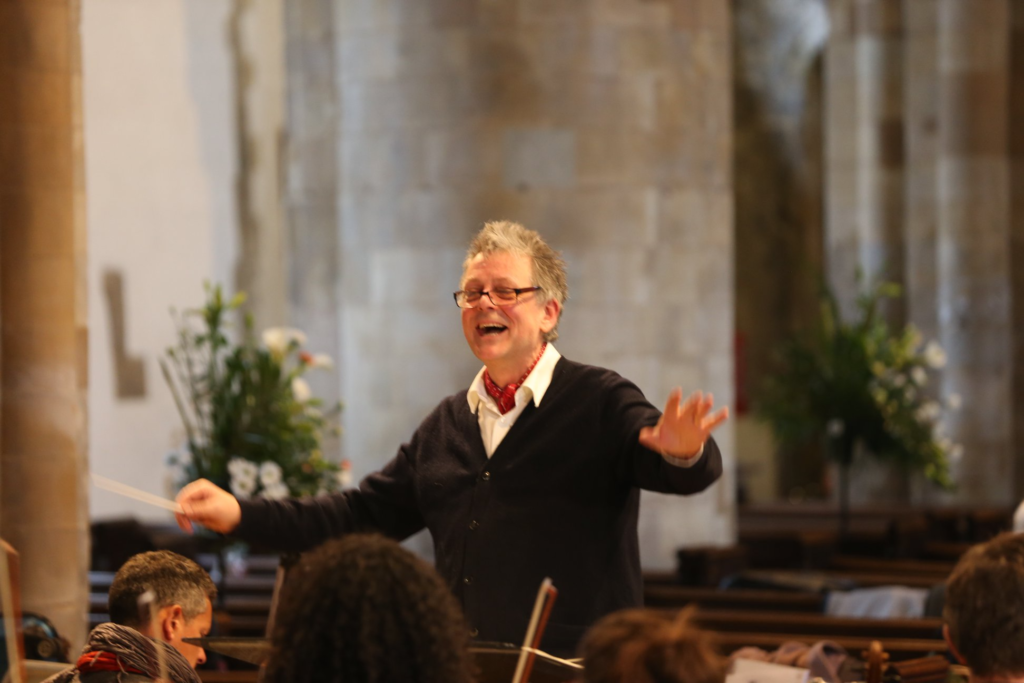 "The best way to spread Christmas cheer is singing loud for all to hear!"

Buddy the Elf
Christmas isn't Christmas without the music we know and love. Familiar words and melodies are a special sign that the season of cheer is upon us. 12 Days brings the magic of a Choral Christmas into your home every day from 25th December to 6th January, and can be given as a gift to your loved ones. In 2020 one of the most popular performances was of Jonathan Rathbone's arrangement of Have Yourself a Merry Little Christmas, sung by The Swan Consort. His masterful compositions feature in the programme for 2021, in alongside traditional favourites and sparkling renaissance motets. This year Artistic Director Anita Datta spoke to Jonathan about his Choral Christmas memories, his approach to composing and arranging for choir, and the all important question: sprouts or no sprouts?
AD: What is your favourite Choral Christmas memory?
JR: My favourite choral Christmas memory must be as a 10 year old chorister singing alto in Coventry Cathedral Choir. On Christmas Eve, we would spend the afternoon rehearsing for the service called "A Form of a Servant". It was always an absolute sell-out. Queues would build up outside, as people waited for the doors to open. During the service, we would sing from all around the Cathedral and I remember singing this fantastic piece in the semi darkness from a side-chapel. I was fascinated by the new and interesting harmonies but also by the voicings. I noticed at one stage, we little altos were actually lower than the basses! The piece – "O Magnum Mysterium" by Francis Poulenc.
AD: Is there a carol or Christmas piece that you could do to never hear again?
JR: As a church musician and choir conductor, I get to perform all the main carols many times each year, and, actually, I love them all in their own way. There are none I would like to see removed from my listening lists for ever, but If I were pushed to lose say one for a week, then I suppose "Hark the Herald" does begin to lose its shine towards Christmas Day. But having said that, as MD of almost everything I'm involved with – I just don't programme it very often, so it's all right!
 
AD: Last year your setting of 'Have Yourself a Merry Little Christmas' touched the hearts of our audiences. How do you approach setting popular songs like this for choirs?

JR: My approach to arranging pieces is pretty much always the same. Just choose what's important about the song – is it funny or witty, is it sad, is it lonely or bleak, is it hard hitting, is it meant to leave the listener disturbed, etc etc. Then arrange it like that, but more so. If it's funny, try and add to that, if it's sad, add to that. But then try to make the writing interesting for the singers/players and most definitely musically interesting for the audience. (Don't forget them!) "Have yourself a Merry…" is a warm, feel-good song. It needs to be sung from the heart so no interesting counterpoint is needed, but it needs some warm chords and it must leave the audience feeling happy so a nice (but interesting) final cadence is needed and nothing fancy on the last chord – just as simple as can be.
AD: What inspired you to begin writing for choirs?
JR: I have always sung in choirs and you'll see from my favourite choral memory that I have always been fascinated by choral writing. I really started writing because I was in a choir and we could perform what I'd written. Whenever we needed an arrangement of something, I'd sit down and write it. And I learnt what worked best just by doing that. This took off in a big way when I joined the Swingle Singers. I replaced Ward Swingle himself as 2nd tenor but he had done all the arrangements up until then, and so I simply wrote everything we needed from then on. I have to say, I learnt SO much from studying his scores.
AD: … and finally, the controversial question: sprouts or no sprouts?
JR: Definitely sprouts – I absolutely love them. I have them all the time. And recently I've been looking at calories. There's almost none in them, so my intake has doubled! I'm happy to just eat a bowl of sprouts for lunch. If I'm not counting calories, then I have them with mayonnaise sometimes. Yummy!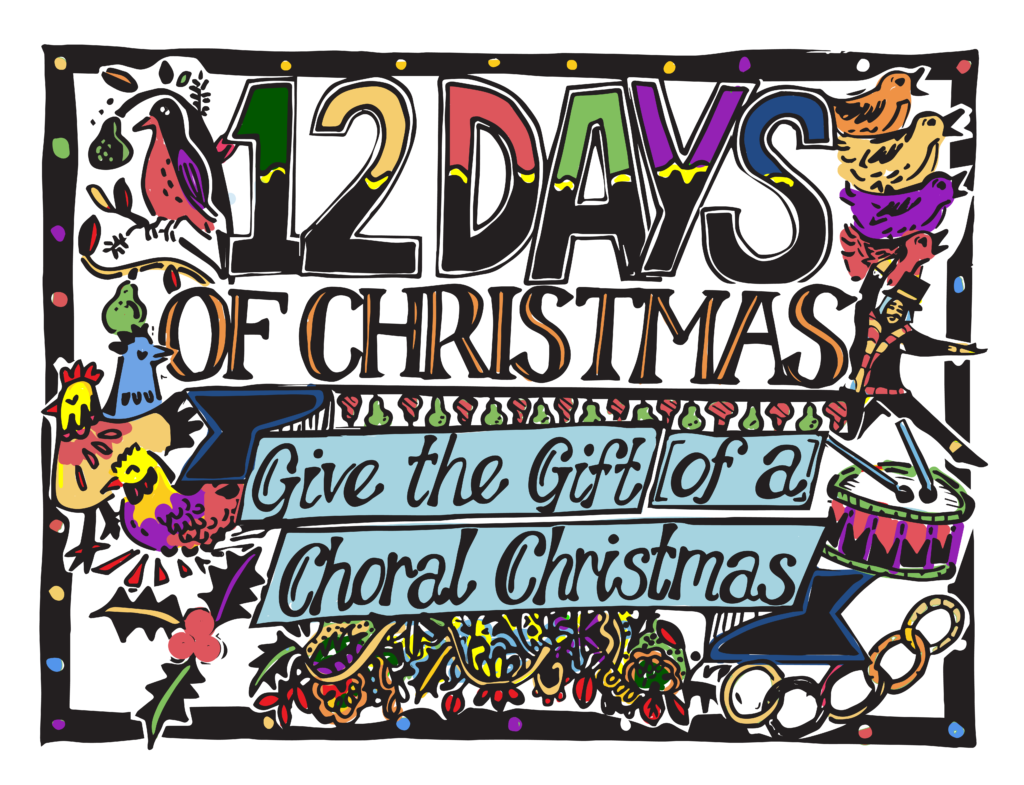 12 Days is the perfect gift for music lovers. Deliver a seasonal performance to your loved ones' inboxes every day from 25th December until the 6th January from three of the UK's brightest choral groups: The Gesualdo Six, Echo Vocal Ensemble and The Swan Consort. With eco-friendly (and instant!) digital delivery from £12, 12 Days is the gift that keeps on giving throughout the festive season.
About Jonathan:
Jonathan Rathbone started his musical career as a chorister at Coventry Cathedral. He was a choral scholar at Christ's College Cambridge, where he read mathematics. He gained a second degree at the Royal Academy of Music where he studied composition with John Gardner. Recently, the Academy honoured him with an ARAM
Jonathan joined the Swingle Singers in 1984 and was musical director of the group for a decade. During that time he turned from composition to arranging – creating the majority of their arrangements, both a cappella and with orchestra. He left the group in 1996 to spend more of his time writing and now spends the much of his time arranging and orchestrating. Amongst others, he has orchestrated for Katherine Jenkins, the Kings Singers, Sir Cliff Richard, Michael Ball, Stephen Cleobury and the choir of Kings College, Cambridge, and orchestras all over Europe.
He conducts five choirs in north London – London Forest Choir, The Rowantree Choir, Havering Singers, the Crofton Singers and Middlesex University Choir (where he also teaches harmony and aural). He also teaches Choral Arranging at Cambridge University.
When COVID struck, Jonathan immediately moved all his lectures and rehearsals on-line. His choirs continued to meet on Zoom, and quickly began to record new arrangements Jonathan had created especially for them to learn and record in isolation.
Since the pandemic, he has continued to write, arrange and orchestrate for a wide range of groups, creating pieces for The Hi-Lo Singers, the Edvard Grieg Kor (based in Bergen), Vocalocity (based in Israel), a student choir in Stockholm, the Cardinal Vaughan Memorial School in London and of course, Coventry Cathedral.
He is married to Helen (also a former Swingle Singer) which is how they are able to produce SATB music at home for the choirs and for their local church. In one year of lockdown, they have produced over 12 hours of music. They are looking forward to the day we can return to normal!